CONTEST EXTENDED!
Silver Spring Inc. has extended Painter Paige's "Why Do You Love Kefa?" contest to Friday, August 22nd.  Please send in all of your submissions by then for the winner to be announced on Monday, August 25th.  Both Paige and Silver Spring Inc. will be at Paige's Gallery Reception on Friday, July 18th from 6:30 – 8:30 p.m. at Kefa Cafe to answer any questions and provide further details.
Original Post Follows:
On July 18th from 6:30 – 8:30 p.m. Kefa Café will host a reception for Paige Hirsch's painting exhibition that will be run from July 14th through August 23rd.
To mark the occasion, Paige has collaborated with Silver Spring Inc. to offer a great opportunity to the Silver Spring community. With her love for community and understanding of how special Kefa is to the residents of Silver Spring, Paige wants this exhibition to not only be about her love and experiences with Kefa, but yours, too. Paige and Silver Spring Inc. ask that you help fuel her inspiration by sharing your love for Kefa.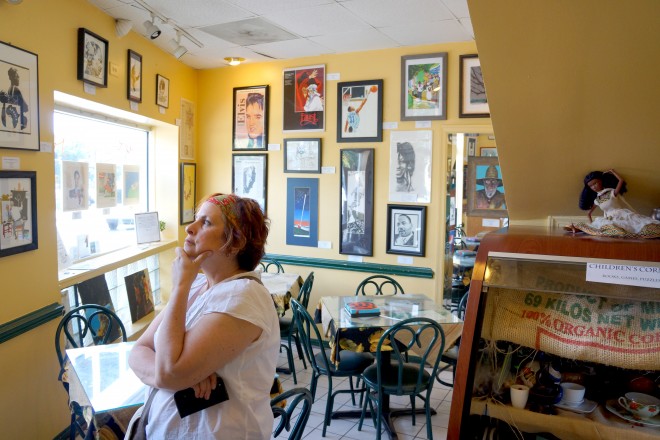 From now through July 16th we want you to send us pieces that reflect your love and special experiences with Kefa Café. You can send in an anecdote, write a poem or song or even create a drawing or painting. We want you to be creative! We are also accepting submissions such as photos of you at Kefa. If you have an old family photo of Kefa back in the day, send it in! Or get a giant group together and send in a photo of them mobbing Kefa with business. The contest is about showing your love of Kefa Café and how we share that experience as a community. Let that guide you.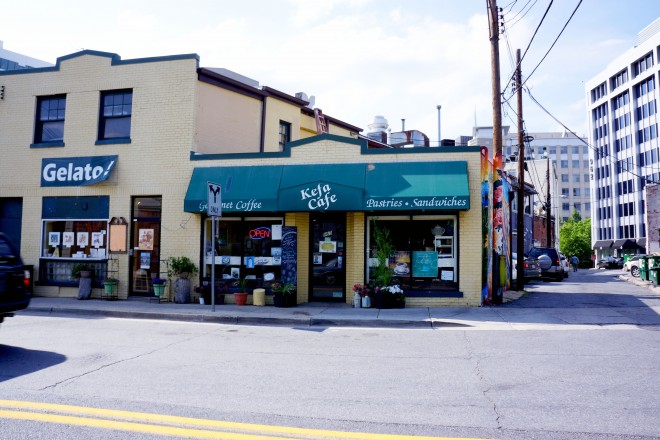 But wait, there's more! As a very special prize, Paige is going to develop a custom commission piece, approximately 11"x14" in size, with the winner. The winning entry will be selected and announced by Paige at her reception. Paige will then work one-on-one with the winner to get to know them and develop a custom piece catered just for them.
Kefa Café means something special to all of us. Whether someone has lived in Silver Spring for over 20 years or less than 3 months, Lene and Abeba create a special experience with each customer that comes through the door. To many their greetings feel like a welcome home. Kefa Café, which recently celebrated its 18-year anniversary, is the embodiment of what is special about Silver Spring and what both Paige and Silver Spring Inc. stand for. We can't wait to see what you all come up with to celebrate Kefa with us!
Entries will be accepted up through August 23rd. Paige herself will decide and announce the winner.
Please email digital submissions to [email protected] or for physical submissions / hard copies use:
"Kefa Love"
P.O. Box 8103
Silver Spring MD, 20907
You can also drop off entries at Kefa Cafe.
To help get you started, here is an example submission by "Painter Paige" herself sharing one of her own special experiences at Kefa Café and why she loves it so much.
"I have lived in downtown SS for 22 years now. We bought our house off of Dale Drive when "Downtown Silver Spring" didn't exist. There was really no reason to go to downtown besides to get on the Metro. There was a large, castle -looking armory and Tastee Diner, which used to sit on Georgia Avenue where Discovery is located. I really don't remember anything else. But in 1996 two sisters took a chance on DTSS and opened up Kefa Café. It was the first coffee shop of its kind in our area and quickly became a favorite of the locals. The owners, sisters Lena and Abeba were so nice and friendly and had a way of making you feel special every time you went in there. And I remember taking my boys with me a lot and one day they took Polaroid pictures of each of them and hung them on the wall with pictures of all of the other kids in the area that frequented Kefa. That made going there even more special. And three years ago, they opened up their space to help local artists share their work. They know what it means to be loyal to an area and what it takes to be successful. That is why I love Kefa. Why do you?"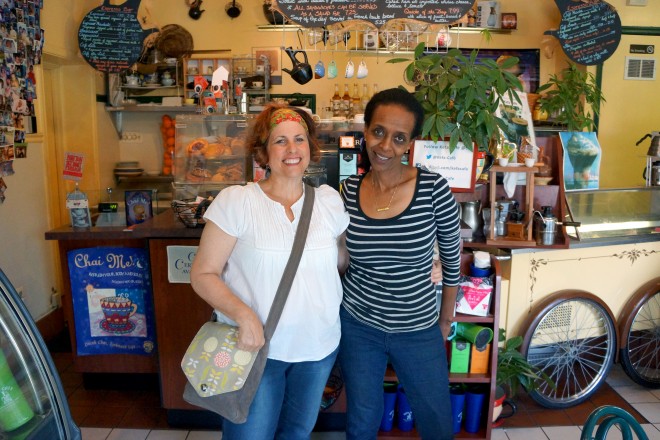 You can learn more about Paige from Silver Spring Inc.'s profile on her which includes upcoming events and links to her stores / social media here.
For more info on Kefa Cafe's gallery, Space 710 click here.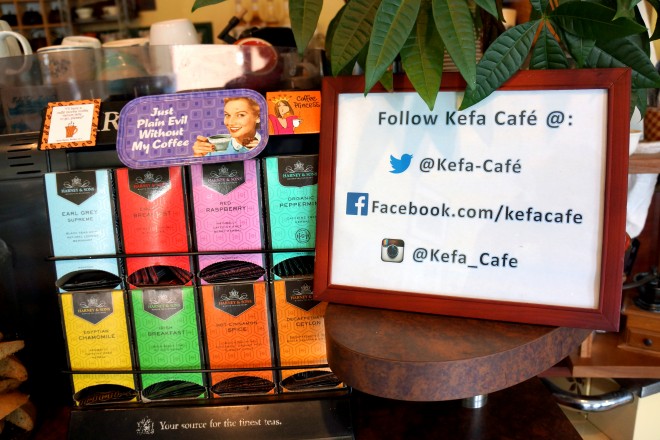 ---