Holy mother of soup! Cliff and I started our food tour of Silver Spring on Sunday evening at El Golfo, and practically jumped out of our skin when we saw the menu. They offer Sopa de Lima!  Seriously. You have no idea how excited we were—and still are!
For those unfamiliar with the dish, Sopa De Lima is a broth-based soup with shredded chicken, cilantro, crispy tortilla strips, and slices of lemon or lime. The broth is velvety. The flavor is mild and refreshing.
We were introduced to and fell in love it back in 2010 when we took a vacation to Playa del Carmen. We've been searching for it here in The States ever since—all to no avail. Sopa de Lima is a regional dish and thus, not well known.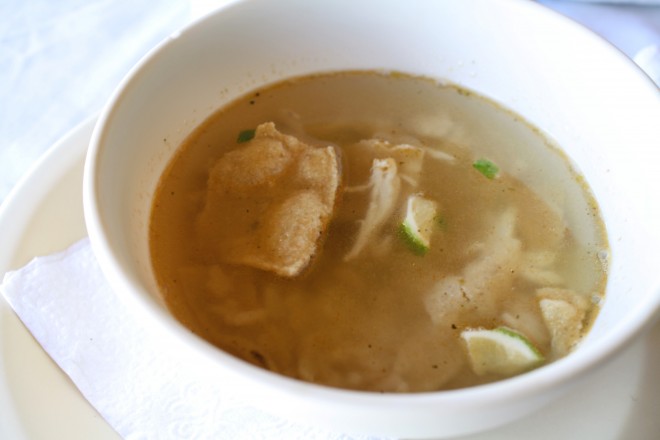 I tried my hand at making it using online recipes, but homemade versions just didn't live up to that first taste. I even asked a coworker who bragged incessantly about his Mexican grandmother's cooking if she could make us a batch of the soup. No deal. Her family is from north Mexico and she'd never heard of it.
Needless to say, Sopa de Lima was the first thing we ordered. We ate it like it was going out of style and El Golfo didn't disappoint. Their version, which came with carrots and celery, had that velvety freshness we've been craving for four years. Yup. I'm sitting here smiling (and drooling) just thinking about it.
Now that our love affair with soup is out in the open, this is probably a good time to tell you that we dined with friends Brad and Amina. Like you, I think they were a little weirded out by our soup obsession, but that's okay. Everyone's got something, right?
Obviously, we'd never been to El Golfo before, but Brad and Amina have. It's a favorite of theirs and that's easy to see why. The restaurant's atmosphere is laidback and friendly, the menu extensive, and the margaritas—mmm hmmm. They were just as good as the soup!
For his main entre, Cliff stuck with a tex-mex staple: beef enchiladas. I chose the vegetarian-based Margarita's platter, which included a cheese enchilada, chile relleno and guac taco. For the record, that guac taco was pretty damned good. Brad and Amina shared an order of mussels and chicken nachos. I didn't have a bite, but those nachos looked divine. Cliff and I definitely know what we're trying next time we go back!
What we ordered:
Sopa de Lima Yucatan
Margarita's Platter
Margaritas (pitcher)
Mussels al Jengibre
Nachos with chicken
Total: $81.56
Address: 8739 Flower Avenue, Silver Spring, MD 20901
---