With the start of the spring semester just around the corner, Cliff's work load is through the roof. He opted to sit this one out, which gave me an opportunity to fulfill one of my 2015 resolutions: Meet and make new friends. I sampled Abyssinia Ethiopian Restaurant with my new neighbor, Brooke, and her friend Dave!
Brooke and Dave were both new to Ethiopian food, and I couldn't think of a better place to introduce them to the cuisine and the culture than Abyssinia. The restaurant's atmosphere rocks! Think hip, happenin' neighborhood hangout. Unlike Abol, the restaurant didn't come with eating instructions, but the place does have a full bar and is decked out in Ethiopian art and pottery. We loved it! But what we loved even more was the beer. Light, sweet, smooth and refreshing is the only way to describe St. George premium lager. It might just be a new favorite!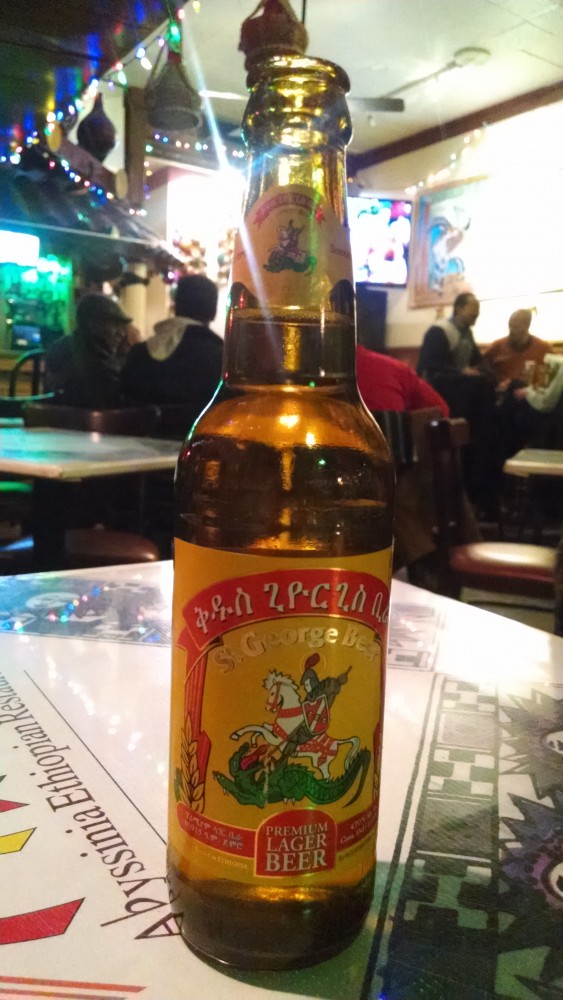 Before ordering food, we agreed to share dishes so we could each sample a wide variety of offerings. Together we dined on the vegetarian combo #1, yebeg kilkil, and doro wat. The wait staff was kind enough to bring everything on one big platter, which means we successfully avoided those awkward overreaching, armpit-in-your-face moments. #winning
I also made a new discovery. I've blogged before about how I hate peas, but I'm beginning to think I may have misjudged them. I went to town on Abyssinia's shiro wat ( ground peas with garlic and onion). It seems sampling Silver Spring's Ethiopian cuisine is opening a lot of new doors for me…
As for Brook and Dave, as soon as they dipped into injera (sourdough-risen flatbread with a unique, slightly spongy texture), they commented on how Ethiopian cuisine causes you to just slow down and enjoy the moment. And that's exactly what we did!
What we ordered:
Vegetarian combo #1: $14 kik alicha (yellow split peas), shiro wat (ground peas), tickle gomen (cabbage and carrots), gomen wat (collard greens), tomato salad.
Yebeg Kilkil: $14 tender lamb
Doro Wat: $15 sautéed chicken
Columbia Crest Cabernet: $13
St. George Premium Lager: $6
Total: $62
Abyssinia Ethiopian Resturaunt is located at:
Be sure to tell them we sent you on your next visit and come back and share your own experience and thoughts.
---