For Cliff and I, everything about 8407 Kitchen Bar was a mystery. I didn't realize it was a restaurant until about a year ago, and Cliff didn't even know where it was located until we walked in the door.
Once we stepped inside, though, it was like we had been transported to another world. 8407's unique combination of rustic-chic and modern décor made us feel like we were at some swanky place in New York City. Cliff was especially fond of the loft-style dining area with exposed-brick walls and floor-to ceiling windows that, we're certain, would have been opened had it been warmer outside.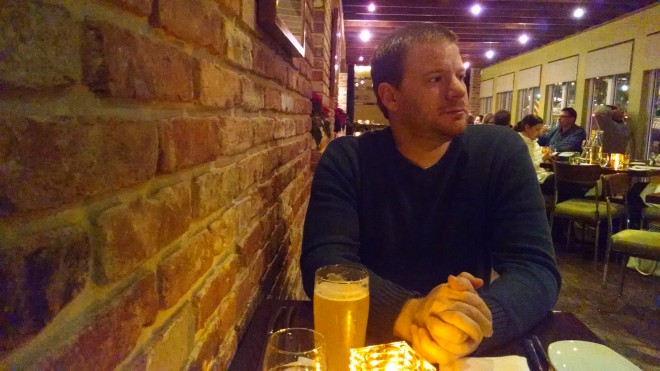 What I especially admire about 8407 is its dedication to the environment and supporting local farms. The restaurant boasts dishes made only from locally sourced food, and the bill of fare looked amazing. However, due to the fact that we just bought a condo, we're on a limited budget. So, we stuck to the sandwich portion of the menu.
I chose the chicken sandwich and Cliff had a burger. They were both good, but what really stole the show was the kickin' little cheese plate we selected for an appetizer. Holy smokes. Can we get five more of those, please?
What we ordered:
Grilled Chicken Monterey Jack Sandwich
Dry Aged Beef Burger
Xtra Sharp Cow's Milk World Wide Cheddar Artisan Cheese
Boulevard 88 Acre Wheat Beer
Total: $40.40
8407 Kitchen Bar is located at:
8407 Ramsey Avenue, Silver Spring, MD 20910
Be sure to tell them we sent you on your next visit and come back and share your own experience and thoughts.
---