Let's be honest: Cliff and I are two white kids from Nebraska. We've never had Ethiopian food before. Prior to eating at Abol, I assumed we wouldn't like it.
I have never been so wrong in my life. We LOVED it!
We shared our experience with friends Nate and Christy, who also were thoroughly impressed. Like us, they hadn't had Ethiopian food in the past—but I have a feeling we'll all be going back.
Abol's chef, T. Mamo, did an excellent job of explaining Ethiopian cuisine to first-timers. Placed at each table was an awesome little instruction sheet explaining why silverware is not served with traditional Ethiopian cuisine and how to eat with injera (a traditional sourdough-risen flatbread with a spongy texture).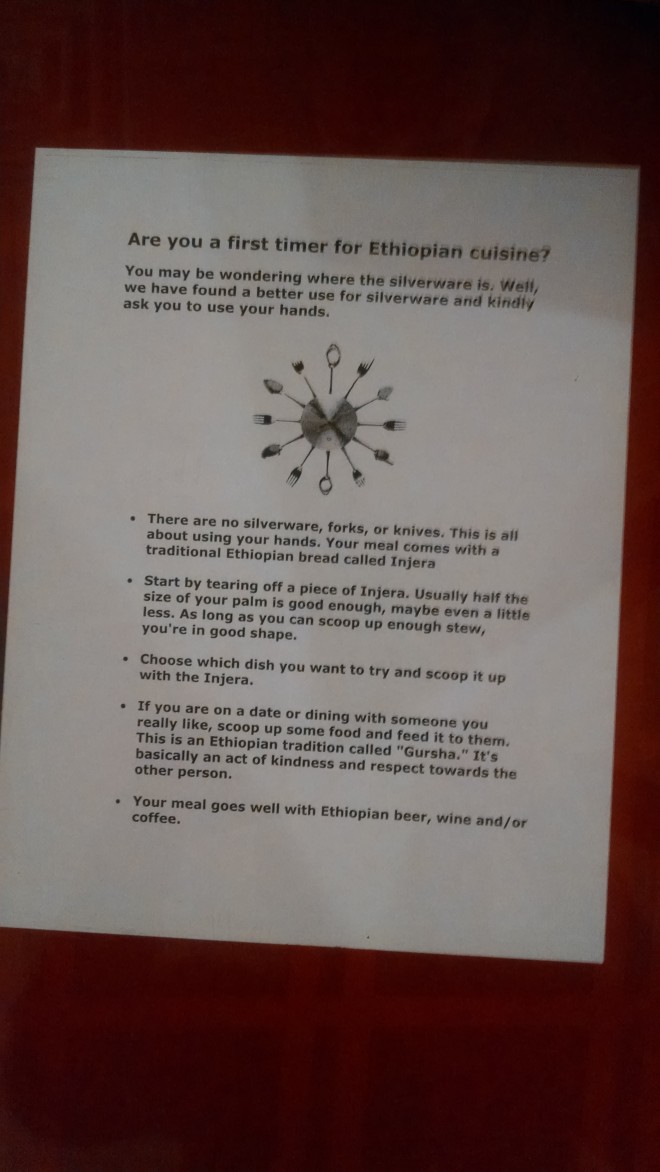 To get the most out of our dining experience, we each ordered something different and passed our food around. I chose a veggie lovers combo, Cliff had spiced beef stew, and Nate and Christy shared the meat lover's combo for two. Everything was great, but we all about jumped out of our pants when we tried the spiced beef stew. I'm not hugely into red meat, but I could eat that all day long.
Even though the food was delicious, what I loved most about eating at Abol was the entire dining experience. I say experience, because I learned that eating Ethiopian food isn't about eating at all—it's really about sharing time with others.
Mamo sums it up nicely in a note to customers that's found inside of every menu: she believes "mealtime is important and everyone should take some time from their busy schedule to appreciate a good meal and the company that goes with it."
Eating with that delicious, spongy bread forced us to naturally slow down. Instead of focusing on the food itself, we focused on each other. The four of us spent two full hours at Abol laughing, chatting and living completely in the moment.
As someone whose favorite holiday is Thanksgiving for those very reasons, Abol gets big props in my book. If this is how enjoyable every Ethiopian dining experience is, sign me up! I'm so ready for more!
What we ordered:
Veggie Lover's combo 1: $14.95 Yemisir Kik We't (Split Lentil Sauce), Yeater Kik Alicha we't (Yellow Split Pea Sauce), Gomen We't (Collard Greens) Tikle Gomen (Cabbage), Fosolia Be Carote (String beans and carrots), Qey Sir- (Beets and Potato) and Tomato Salad.
Yesega we't: $12.95 Spiced Beef Stew
Meat lover's combo for two: $29.99 [Doro We't (Chicken Stew).Yesega we't (Spiced Beef Stew), Yebeg We't (Lamb Stew), Yesega Alcha we't (Mild Beef Stew) and Gomen We't (Collard Greens)
Total: $57.89
Abol Ethiopian Cuisine is located at:
8626 Colesville Road Silver Spring, MD 20910
Be sure to tell them we sent you on your next visit and come back and share your own experience and thoughts.
---