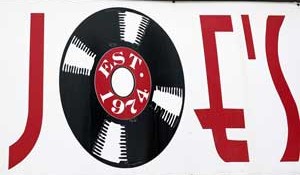 Please introduce yourself.
My name is Johnson Lee, current owner of Joe's Record Paradise. I am the son of Joe Lee, the original owner of the record store.
Can you tell me about Joe's Record Paradise?
We've been in Montgomery County since 1974. Joe grew up around here and had spent some time in LA managing a store called Platypus Records. Once he found out he was going to have a baby, my older sister, they decided LA wasn't the correct place to raise a child, so they moved back into this area. They continued with the record store theme of employment, opening a store in Takoma Park in 1974. It was there about five years. At that point, we moved to Bell Pre/Aspen Hill area at Plaza Del Mercado. We were there in two different locations for at least ten years. That was a legendary spot for us. The Takoma Park store was big with mostly new records. There wasn't a huge used market then as much as there is now. Most things are used, probably. From there, Plaza Del Mercado, we there for about 10 years and then Aspen Hill for about five years.We've spent about five or ten years in each location and then move on, usually because of rent. This current location in downtown Silver Spring, they're going to be putting up highrises and boutique shops at the ground level, so we have one year left on our lease. They must extend us for a year or two or three and then we'll be out of here. But there's gonna be a place for us.
Can you tell me about your records?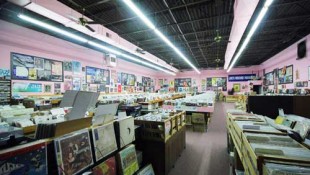 They inventory changes constantly. We've got a lot of stuff that's fairly cheap. Half of this room is budget stuff. We stock everything, every kind of music we can find: weird records, oddball stuff, dance 12", dance hip hop, rock, jazz, soul, reggae. Anyone that calls, we go through their collection and pull out what we can. A lot of time they just end up dumping the rest on us. If someone's moving and they don't want to bring anything, they're going to dump it on us. We do recycling. Certain things, if it's a common record, we've got copies, and we're not going to buy it, they give it to us, we stick it out cheap, or recycle it. We have a recycling program. Guys come from Philly and they take big loads of it. We've got stacks of it over there on the ground. Once I can fill up a van for them, they'll send the van down, and I send it up to them. They turn it into bowls, bracelets and stuff like that. What they don't use, guys from Nashville come and pick it up from them in even larger loads, and they chip it up and make it back into records. About five or six years ago, I started this program. I found that people were dumping so much useless stuff on us, we would throw away a box of records a day, and that, to me, was insanity. We were throwing it into the water table, so I found a way to dispose of it properly.
Since you've been in Silver Spring, how have you seen it change?
A lot of the current change happened before we got in here. Ellsworth, all the restaurants, the fountain, that was here a little bit before us. It's nice to have people just walking down the street. We get new customers every day. People just walking by, and it's the same people like, "I've been walking this route every day, and I just finally looked up." I guess most people look at their feet when they walk. We get new people coming by. "New Old People" I call them. Plus people come from all over, different states or even different countries to browse our stock. There's certain things you just can't find around. People come from Japan or England, and they own stores there. They'll come, buy stuff from us and then triple the price in their home country because you don't see it as much there as you do here.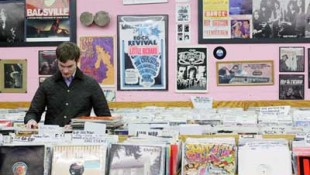 What do you love about Silver Spring?
My family was somewhat involved in its inception, so we've been here for a long time. It's a nice town. It's city enough, but the streets don't smell like urine, so that's great. It's a city and it's close. We've got the AFI, we've got The Fillmore. We've got little dive pubs that people love. It's got some personality and flavor.
What do you dislike about Silver Spring?
The guys that check the meters are invisible hawks. If you take three steps away from your car without paying, they'll get you, so that's kind of problematic. Some of the tow truck companies in this area are horrible predators, totally illegal players. We had some clowns that were monitoring the lot next to us. For the first year, we had something like a hundred people towed. They didn't have any signs up, except one facing outward, so if you walk off, you don't see it. I went to the county and things were moving slow in that direction. There was a 7-Eleven moving in, and I went to their office telling them of our soon to be boycotts, and very quickly, a sign was put up in every spot because the guy didn't want to lose customers. The predatory towing in this lot stopped, but I've heard it's grown in other small lots in the area. That's probably a problem with most towns or cities, but these guys are just nasty.
What would make Silver Spring better?
Cheaper rent, but that's a problem everywhere. My friend from New York told me rent is too damn high, and I believe him. High rent is usually what makes us move. We did okay here. We're in a holding pattern with this current place because they want to tear this whole block down. Since the economy crashed, they've had to slow it down, so I think that was one of the things that got us in here was just holding over this location until they can tear it down and make a lot of money. We did okay, but our lease comes up in a year, so I'm ready to move at any time. It's just what we do and we're always prepared.
When you go out in Silver Spring, where would someone find you?
I've got two small kids, so I don't really get out. Were I to go out, there's good restaurants and places to get beer. You've got Jackie's and Quarry House. I've been to a whole bunch of shows at The Fillmore. There's the movie theater, if that's your thing. Now that there are a lot of different restaurants, that makes it a fun place to go. If you have young kids, you can go to the fountain during the day if it's nice out. That's always fun. Kids love to play in the water. It's just more alive. I was born in the 70's. I remember throughout the 80s, you would come to downtown Silver Spring, and you would keep driving. It wasn't that dangerous of a place, it was just that deserted. Tumble weeds. It's done a lot better for itself. I've heard even City Place is thinking of changing around their thing, so that's good. It's a destination. There's three record stores within one block of each other, so that makes it a destination in that sense. You go for just one record store, that's okay, but if you've got three to choose, you can pick and choose and have more of an option, so that's good. Silver Spring definitely like that, what we've done with it. Where else can you find that, other than SoHo and England?
Any Hidden gems in Silver Spring?
The AFI is nice. If you want independent stuff or replays or just classic movies, AFI is good for that. Quarry House is great for beers. You don't have to dress up for that. Good luck finding a table. There's some small restaurants, Jackie's and 8407. 8407 is nice. I've been there once. Neat little small places around. Boutique shops. We don't need another Red Lobster.
Anything else that should be said?
Don't store your records in a wet basement, because wet records are bad records, and if you want to sell, give us a call.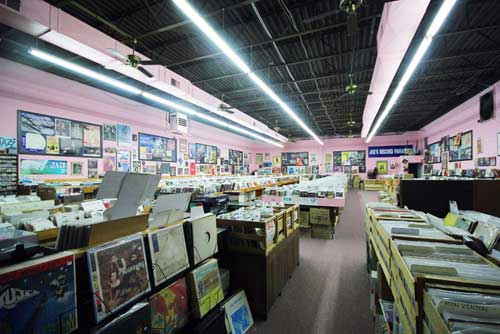 Banner image courtesy of Jonna Huseman, www.jhphotograph.com
---