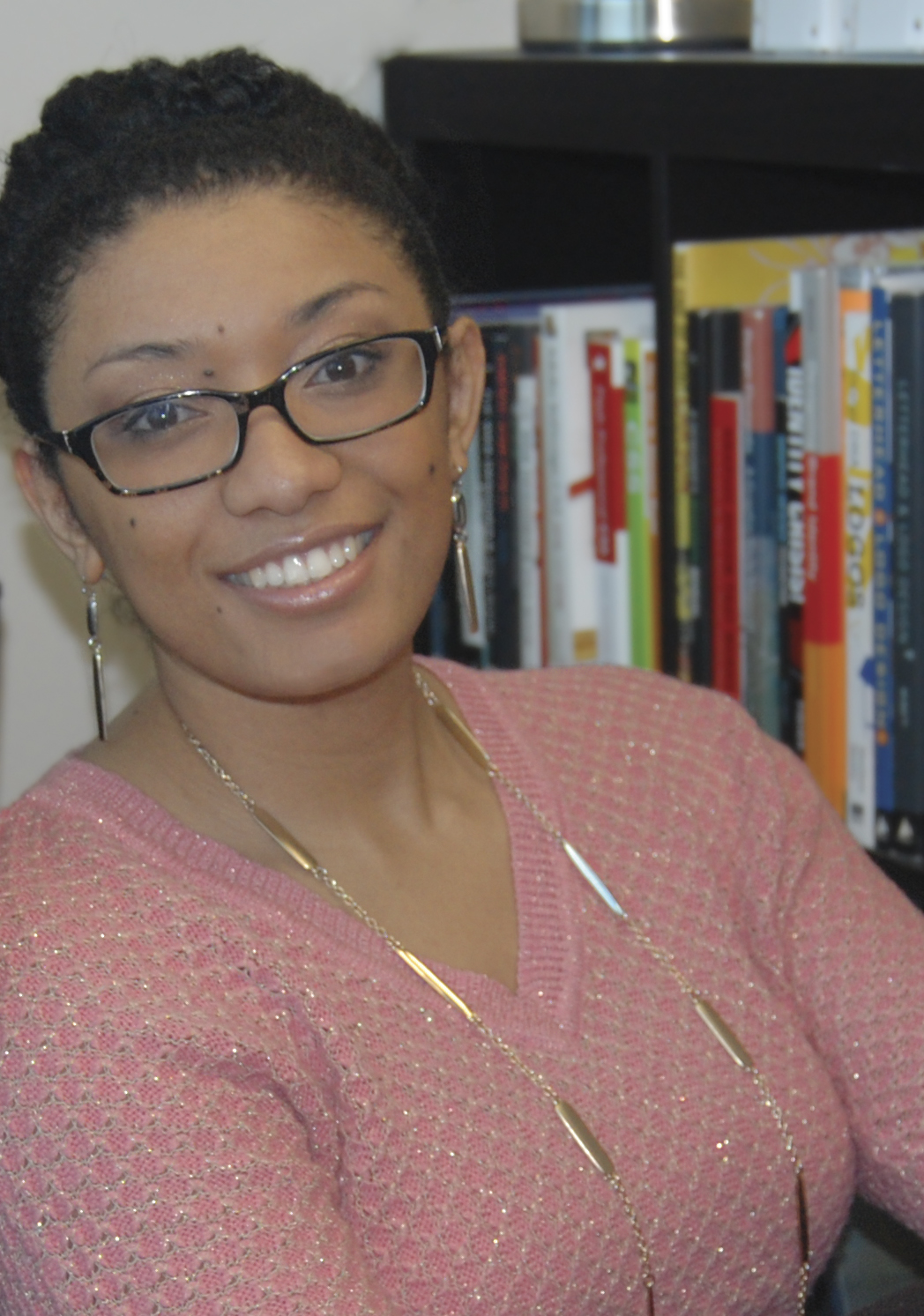 Please introduce yourself.
My name is Shala Graham. I'm the principal and creative director of SW Creatives.
How did you end up in Silver Spring?
When I first moved into Montgomery County from DC, I lived in Takoma Park. When it was time to buy property, we moved into Silver Spring right in Wheaton near University and Sligo Creek. From there, we got our office space in Wheaton, which is technically still Silver Spring, and more recently, we moved into downtown Silver Spring. We love the county. We thought if this is going to be a place that we buy a property, and eventually have kids, we want to be in the county, as opposed to the district or any of the other surrounding counties.
Tell me about SW Creatives.
SW Creatives is a graphic and web design firm. We work specifically with nonprofit organizations, NGOs and other organizations that are community driven. We focused on supporting the good things that are happening, helping people. We decided we would do that around 2011. When the company first started, it was kind of whoever wants to write me a check is where we will do business, minus crazy, half-naked fliers for clubs. We were pretty open, but we've always worked for non-profits. Our first project was for a Civil Rights march. That was really cool. It was one of the anniversaries down in Arkansas with a lot of major civil rights leaders and senators. It was just something that kicked off.
I didn't plan on starting the business. I was just freelancing on the side of my day job just because people asked me to. When I decided to not renew that contract and work for a company from home, he turned out to be crazy after a couple months. We thought it would be best if we just parted ways. I reached out to some old contacts, got some projects going, and by the time I heard back from agencies and recruiters, I had contracts under SW Creatives. My husband and I were newly married. He said, "Don't quit the business. Keep going. One day, it'll be good to have flexibility." I said to him, "Honey, working for the man is kind of nice. They have health insurance and direct deposit." These are nice things to have. But he persisted and I said okay, and we're still in business and we're five people strong now. It's been an adventure and I have a hard time thinking what it would be like to work for somebody. Aside from that one year, from my very first job, I've been an entrepreneur the entire time. I had a year and half of teaching university, but even then you have this autonomy. I like being my own boss. It's a good thing.
Please tell me about your new office.
We had been in the Wheaton incubator for five years, and you're only supposed to be in an incubator for about four years. I was feeling super senior in the space. There are others that had been there even longer than I, so I didn't feel too bad. Me being the type-A, must meet deadline person, I kept thinking, "I need to get out. I need to do." At first I just wanted to buy property for the company, and I figured I'd have a couple extra offices that I would sublet to people. I ended up being at an event where I learned of this need for independent freelancers to just have a place to work. As I continued in my real estate hunt, I learned about co working spaces and so SW Creatives graduation was tied with the launch of Creative Colony. It was this joint effort to find space not just for SW Creatives, but also for Creative Colony to share. We knew we wanted downtown Silver Spring. I didn't want to go too far in county because I had employees that were coming from Ann Arundel County, the district, a couple in Silver Spring, and one in Springfield. I didn't want to go too far up county. I didn't want to do highway. Me and highway time, we don't get along. Where we were in Wheaton, it was literally a song and a half ride up one street to get to work and turn into the parking lot, so I'm spoiled in that. Downtown Silver Spring was going to be ideal, not just for my own convenience, but also for a creative community where we felt like it would be the most appropriate. It's still close enough to the district because most of our clients are in the district. It's actually cut down 10 minutes drive time when we go out to client meetings. We love Silver Spring. There's a lot of parking space. It's not as expensive as Bethesda, Rockville and DC proper. That's how we got to Silver Spring.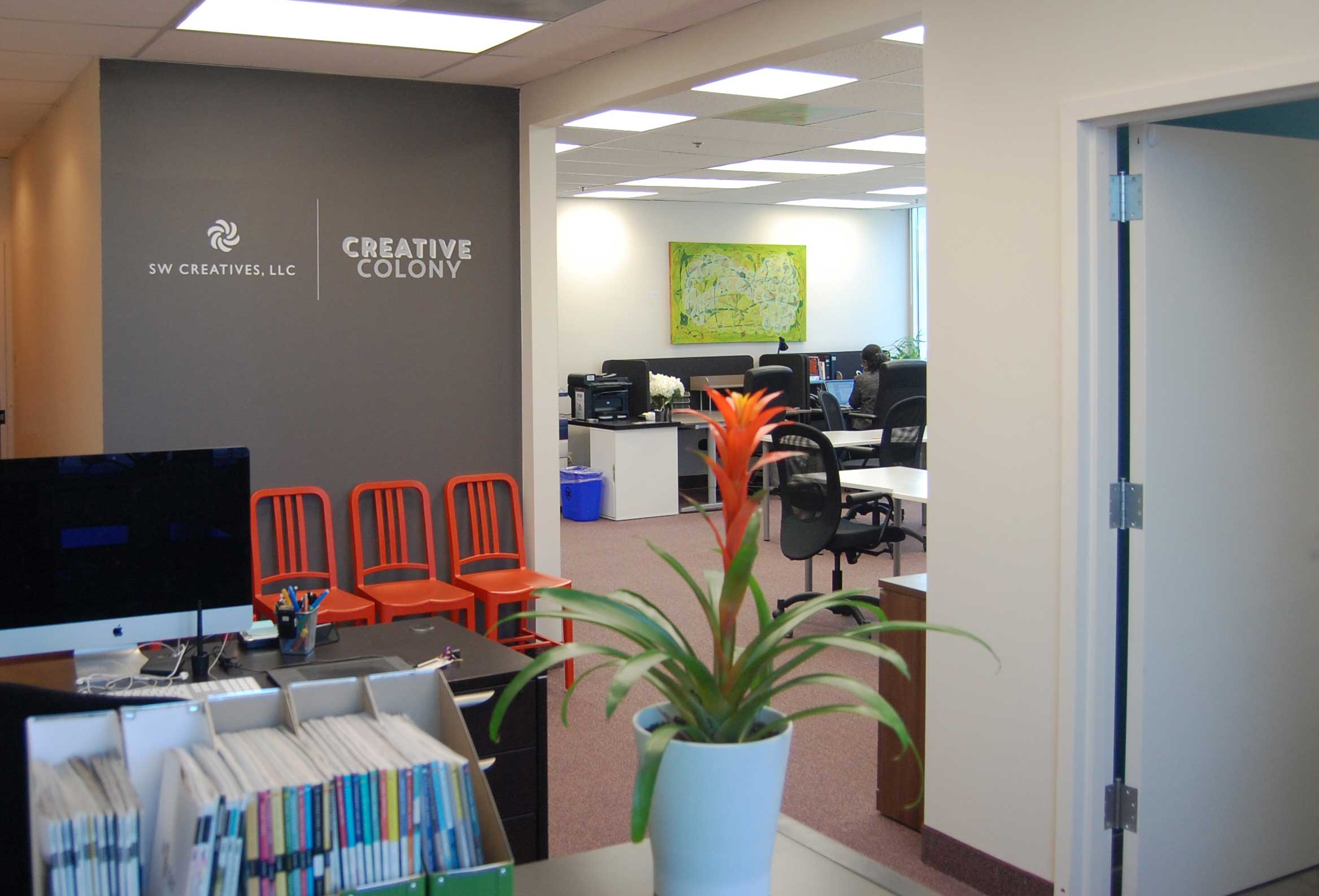 This building was at the strong urging of Reemberto Rodriguez. We sat down with him and he said, "The World Building needs you. You need them and they need you." We said, "Okay! We'll check it out." We had not really given much thought of coming this far south in downtown Silver Spring, but then we came and saw three spaces. The space we chose was the third of the three. We really love the views and the lighting and the property management has been really great. I send them many emails like, "Please look at my door. Please look at this. Do you also vacuum our suite in the middle of the day because we had a messy launch party last night and our floor is messy? Can you come look at that, please?" They've always been very responsive. They've given us a fabulous build out. They let us pick paint colors instead of just eggshell, as they normally would do. They didn't increase any of the asking price, but still built out a full kitchen and done all of the other things. They reworked all of our electrical, put in new lights. They've been really good to us, so we're really pleased with the decision to be here in the World Building.
How have you seen Silver Spring change?
I've been living in Silver Spring since 2007, so it's been really interesting. It's become more popular. As downtown Silver Spring has been developed more, we've seen more of these high-rise apartment buildings pop up. It used to just be the Georgian Towers, which is now The Point. All of these other ones that pop up have brought a younger community. It's a young, professional, hop-on-the-redline-go-into-the-city, community. Also, as that generation has moved into the area, and it's not just suburbanite families, it's put an interesting vibe into the local shops. It reminds me of what will happen in Wheaton, as they get ready to undergo their redevelopment. Both downtown Silver Spring and Wheaton have very eclectic ma and pa restaurants and are very internationally diverse. A lot of people who live a little bit further into Wheaton are doing so because it's a little bit more cost effective. As the redevelopment happens, not that you lose cost effectiveness, it will be a little bit more poppin'.
I remember when I first moved into Silver Spring, I had a surrogate mother and father in the district. They were like, "Be careful! This one particular apartment building used to be… " you know, I don't want to name them here. I don't want to defame any apartment communities. You wouldn't go past that apartment community now and think, "Oh, it may not be safe there." The community has changed. It's really interesting how safe you feel. I used to come up to Silver Spring when I was in college, and I lived in the district, to go to City Place Mall. I was like, "All I can afford is Burlington Coat Factory." That's where I went. The only thing on a metro line was the Target up in Wheaton. You would come here and when The Majestic opened, it was like, "Oooh! There's a movie theater in Silver Spring!" That was newer at the time, and it was a little nicer than the movie theater at Union Station that I think is closed now. That was back when they had good student discounts of like $4.50. Now I feel very old because you're not going to find $4.50 anywhere. It's been really cool; you feel a little more hip, like "Yeah! I'm in Silver Spring. You're not in Silver Spring? Loser." It feels like something you can own whereas Bethesda and Rockville feel so corporate. You lose a sense of people and humanity. Silver Spring is very much about the people that are going to make it awesome. It's been cool, especially when they made it formally an arts district and they were drawing more of the arts in artists ally, and bringing the Fillmore and the AFI, it's become more of a destination. It's a gem in the area.
What do you love about Silver Spring?
I love how easy it is for me to get where I need to be. I do just about everything in Silver Spring. I live on University. You go one way on University and go to Costco, Target and Safeway. Go down the other way to come down Colesville and get to work. What I have found about having the office down here in Silver Spring is I spend more money. I eat out more. Zed's is getting my money. Kefa Café is getting my money. My hairdresser is up the street. I should build that into the budget just a little bit more. Oh, I want hummus from Lebanese Taverna, can I get a couple more pita breads, please? I actually dropped pita bread on the floor, on the brick sidewalk. It was the day after it rained. I picked that sucker up and I ate it. It was hot. I was like, "It just rained yesterday. These bricks look relatively clean, maybe." I was hungry. It was really good. I'm still alive and healthy. I haven't had to go to the doctor for anything.
No Ebola?
No Ebola. I'm doing pretty good for myself. I love how convenient everything is. I don't find needs to go into the district, although I do love eating off Rockville and Gaithersburg. I love being within a short drive of everything that I need.
What do you dislike about Silver Spring?
The parking lot that I'm in, I already got a flat tire. I got the first flat tire in ten or fifteen years. It's got to be the parking lot. There was a nail right in my tire. I was thinking these tires are kind of new. Why do I have a nail in my tire? That I don't like, but everything else, I really like. It would nice if the streets were a little wider and if we could flow the congestion that gets out to Colesville. I've already found my neighborhood cut, to keep my commute a little bit easier, but I think that's just growing pains. The cities growing and expanding and you need better ways of dealing with the traffic coming up Fenton and Colesville.
When you go out in Silver Spring, where would someone find you?
My favorite restaurant in downtown Silver Spring is Mi Rancho. I love them. It's cheap and it's good. I always get a taco al carbon, it's like a fajita that's already wrapped for you, and it's like $5. Why am I going to spend $15, when I can get that? Done. When my brother comes into town, friends, I tell them we need some Mi Rancho in our lives. Other than that, you'll find me in downtown at Ulta getting some lip gloss. I'm also at Kibana's getting my hair done. Those are my spots for food and being cute. My superficial, basic human needs there.
Any hidden gems in Silver Spring?
I did introduce someone recently to Kefa Café, and she didn't know it was there. I wouldn't have known it was there if Jose Dominguez from Pyramid Atlantic didn't recommend us meeting there. They make a really good egg croissant sandwich. I love their cute little teapots and teacups. It's just quaint and you don't have the hustle and bustle or the pretension of a chain coffee shop. That makes it nice. You always see the owner. She's usually the one behind the cash register. Not that I want her working like a slave, but it's nice to see an owner and to wave and smile because you know each other. I met her at a women's business CEO roundtable, so while we don't know each other well, it's a nod to another woman owned business that I particularly appreciate.
Anything that needs to be said about you, or SW Creatives or Silver Spring?
I'm awesome and amazing.
Everyone knows that. How about some new information?
What I would like everyone to know about what drives SW Creatives and flows into Creative Colony is our mission is to serve those that are serving others. It comes from being raised by a mother that served tremendously. I remember being at a street corner and my mom rolling down the window to give somebody some money. She said, "This is my good deed for the day." It put the idea in my mind that I should be thinking about doing something good every day. Ultimately, it really comes from my faith. I strongly believe that I was given particular gifts and talents in order to create change in this world and the community. Shame on me if I don't use that for good. The same thing that goes into Creative Colony and what I really appreciate about working with Tiffany, we met through church, there are very similar core values that go into why we do what we do, and make our relationship work well. It's a sense of being supportive. As we talk about what we're doing, we're not trying to make a crap load of money. If I can cover my costs, that would be awesome. There are so many other people who are in the position that I was in five or six years ago before I got into the incubator where I was home alone working in my sweatpants that I had had on for three days. I would be trying to keep a client on the phone a little longer because I had no one else to talk to. That's very real, like "Don't get off the phone! Please keep talking to me." There were times when I was so stressed out and overwhelmed by what was going on that I literally crawled under my desk at home and held myself and cried because I was so overwhelmed. I think that if you have a community, if you have people you can be around, or you have people you can ask questions, or just vent, maybe you don't need to crawl under the table. Maybe you'll feel motivated to take a shower and get out of your sweatpants. This is after I was married. Bless my husband who has endured shower-less days because all I dad to do was pick him up from the metro. I'm pretty sure I showered Sunday morning and Wednesday evening to go to church, and then if we were going out on the weekend. It was very, very sad.
It comes from a place of we want to help people. We want people to be supported, and we want other entrepreneurs feel like they can do it. We're really fortunate as SW Creatives to always turn profit every year. We always increase revenue every year, even through the recession, maybe only by a couple hundred dollars, but there was profit and there was increased revenue. That was a blessing and I can't say that I was so business savvy that I just knew how to do everything. It's about helping people. It's about wanting people to succeed. It's about wanting people to feel supported and being able to make a difference whether we're designing for good or coworking for good or whatever else the case may be. We hope that our role here in this community as SW Creatives is one where things are made better, somehow, someway.
As a company, we get letters from kids that we sponsor. Right now we sponsor three children in the Philippines, Rhoann, Adriane Paul, and Adrian. Adrian happens to be my husband's name. The first child, his birthdate is January 9, 2005, which is our company birthday. I'm like, "You have my husband's name, our company birthday, and you're in the Philippines, which is where my mom is from. You clearly must be my child." We pay our sponsorship dues each month to make sure they have their health check ups, their dental check ups, they're eating, they're going to the center for their activities, they're families are being watched over, they're having bible study time. I got a letter from one of them today and I pass it off to whoever is corresponding with them. Different team members have a child that they're writing with. I read all of them and then figure out whom it's supposed to go to. I had a chance to visit all three of them last summer in the Philippines. In today's letter, I learned that the father is now jobless. We always send a Christmas gift, a smaller gift for the kid and a larger gift for the family…financial gifts. In the letter, the mother said , "I've been praying for a job for my husband and we didn't know how we were going to meet our day to day expenses and God answered our prayer through you." That was really special. I think that's the kind of side of SW Creatives I want people to know. Not to toot our own horn, but to say even a small business can do something great and wonderful, that doesn't cost insane money. Hopefully people can do similarly, whether they find someone locally that they can love up on, or some sort of cultural tie somewhere else. It's special and I hope that there are more businesses that care beyond recycling, and care beyond energy efficiency. Those things are good, but really love people. That's who we are as a company and in everything that we do. We really want to love people.
---