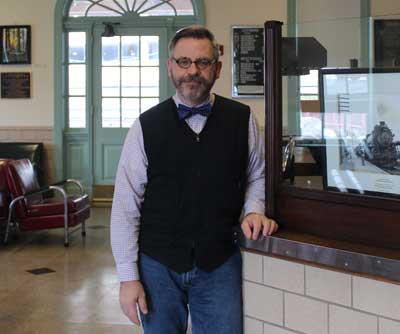 Please introduce yourself
My name is Jerry McCoy.
Please tell me more about how you ended up in Silver Spring.
I ended up in Silver Spring because of my wife, Nan. She wanted to become a homeowner. We were renters in the District of Columbia and lived in Adams Morgan at the time. We started hunting for a house. We wanted a bungalow, in particular. We couldn't find anything in DC that we could afford. This was back in 1991. We decided to check out Takoma Park, MD because we knew there were a lot of bungalows located in that community. We could find absolutely nothing that was on the market, so we thought we would check out downtown Silver Spring.
I had some priorities that I had asked of Nan. I said, "Wherever we end up, we have to be within walking distance of a Metro station," which is what we had in Adams Morgan. We had to be able to walk to restaurants and a grocery store because I love to walk. Darned if she didn't find an "abused" bungalow on Thayer Avenue here in downtown Silver Spring. That was without the help of our real estate agent who did not want to show us anything in the East Silver Spring neighborhood because it was a "transitional" neighborhood 20+ years ago. She thought we were more Woodside or Woodside Park people, but we weren't because we couldn't afford the real estate in those neighborhoods.
East Silver Spring was more moderately priced because it was a neighborhood of smaller homes very close to Silver Spring's CBD (central business district). Buying our house was the best economic decision we ever made because today we could not afford it as all of the homes around us have doubled and tripled in value. My wife and I used to joke, "As soon as we're offered half a million dollars, we're outta here." That day has come and passed. We're here for the duration. We're planning to age in place because we love downtown Silver Spring and our bungalow. We're happy to be here.
Can you tell me about the Silver Spring Historical Society?
We moved here in January of 1992. I've always been interested in local history. To me, local history has always been the most immediate, visceral type of history because it was buildings and places that were right around you. You could reach out and touch them, as opposed to reading about the history of other cities or countries in dry textbooks. When I moved here, I wanted to learn about my new community. I had done a little bit of research as to what was in downtown Silver Spring even before we moved here. There were (and still kind of are) three places that I have since referred to icons of American culture.
Downtown Silver Spring had a working passenger train station, which is where we're sitting right now, and it was built in 1945 by the Baltimore and Ohio Railroad as a replacement for their earlier 1878 station. When we moved here it was a MARC commuter station. That amazed me, first that there was a train station still standing in Silver Spring, but also that it was still being used as a train station. Downtown Silver Spring also had a 24-hour diner, Tastee Diner at the corner of Wayne and Georgia Avenue. I've long loved diners, and that just appealed to me so greatly that I could wake up at 3:00 in the morning, get dressed, and walk to Tastee Diner for eggs and bacon. Now, of course, I've ever done this but the possibility always appealed to me.
The third cultural icon was that Silver Spring had a New Deal-era 1930's post office mural. This was a program between 1933 and 1943 when the federal government built post offices during the Depression; they would incorporate a work of art in the lobby, usually large murals that were placed on the walls. Sometimes it was interior or exterior sculpture that was incorporated into the construction of a post office. There were only about 2,000 post offices built during that period, and Silver Spring was one of the 14 post offices in the state of Maryland that was a recipient of this federal art project. I did not know at the time we moved here that the post office building was no longer a post office. It was a Wiz Records store by the time we moved here. The building is still here on Georgia Avenue. I remember walking in and thinking, "Wow, this mural is going to be up on the wall." The mural wasn't there. The wall that the mural used to be affixed to wasn't there either because the entire interior had been gutted. I remember talking to the manager of the Wiz Records, saying, "Do you know anything about a mural that used to be here in this building?" He just looked at me like I was a crazy.
This was really my introduction to preserving Silver Spring's history as I was determined to find out what had happened to this mural. I had assumed that it had been destroyed when the interior of the post office was gutted. I just wanted to confirm that. It took me over two years to find out what had happened to this post office mural. I was able to find out from one of Silver Spring's former postmasters, Jack Duchesne. He said they had commissioned an artist from Philadelphia who came in and scraped it off the wall. It was a 16.5-foot long by 5.5-foot high oil on canvas mural. This conservation artist carefully scraped it off the wall, rolled it up, and slid it into a giant cardboard carpet tube. It was placed in a closest in the basement of the Blair Post Office substation, then located in south Silver Spring at the corner of Kennett and Newell Street, and all but forgotten. That happened in 1981 when the Georgia Avenue post office shut down and relocated to Second Avenue, which itself has now been demolished. There's now an apartment building sitting there, so now we have to get in our car and go over to that strip mall on 16th street. This strip mall is also going to be demolished because of the Purple Line. This poor community! We cannot find a place to keep a post office. That's unfortunate because a lot of people appreciated being able to walk to the post office, but now its too long of a walk all the way over to 16th Street.
Anyway, the post office mural was in severe need of conservation. That's when I started going around to Silver Spring community groups with a slide presentation and talking up this discovery that I had made. I talked about how the U.S. taxpayers had paid for this mural, how it was disrespectful to the piece of art, and how it needed to be restored and put back into a place where the public would be able to enjoy it again. During one of my walking tours of Georgia Avenue I stopped in front of the old post office and told the folks about this mural titled "The Old Tavern" by Nicolai Cikovsky. One of the tour participants was a member of the then recently founded Friends of the Silver Spring Library. Their organization wanted to commission a piece of artwork to place behind the circulation desk at the library. I said, "Hey, you want a piece of artwork for the library and I have a historic mural. I think we have a project here!"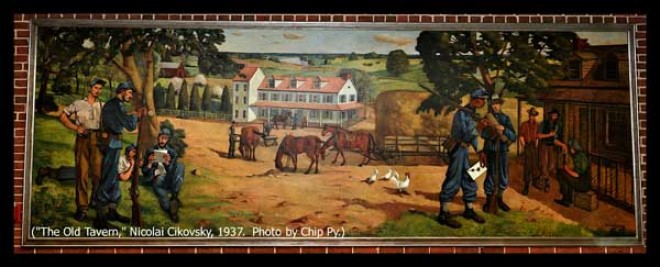 So it was the Friends of Silver Spring Library that spearheaded the effort to raise the money. It cost about $25,000 to conserve, frame and install the mural, and today it hangs in the Silver Spring Library on Colesville Road. When the new Silver Spring Library opens on Wayne Avenue the mural will be relocated and placed in a prominent location on the third floor. It's really a great mural that shows the corner of Georgia Avenue and Colesville Road around 1865, at the end of the Civil War when our community was called Sligo, Maryland, named after nearby Sligo Creek. This was my introduction to the preservation of a material object that was and remains important to the documentation of the history of Silver Spring.
It was after the success of saving the mural that a handful of like-minded individuals that I encountered during fundraising efforts started saying, "We should really have our own historical society." Up until that point there was organization whose mission was to preserve downtown Silver Spring's history. I remember when I first moved here and wanted to learn about the community's history I went to the Silver Spring Library. I assumed that this was where all the information would be. I found very little. They had four 3-ring binders where librarians had clipped out articles pertaining to the history of Silver Spring. That was interesting, but nothing thorough. I thought, "Okay, I know where I need to go, to the Montgomery County Historical Society in Rockville, Maryland. That's where all the history's going to be about Silver Spring."
I went up there and they didn't have much more than the Silver Spring Library. It was there that I first heard the expression "up county and down county." It seemed that the closer you got down county to that infamous DC line; there was no history down there. There was nothing worth saving. The further up county you went, "Oh yes! We have a rich history up here that's very valuable and worthy of preservation." I was quickly attuned to the disparity between these communities that exhibited "self-worth" and subsequently valued their history and communities that were simply ignorant of their history. Unfortunately, I felt that my new community fell into the later category. I thought, "This isn't right, maybe Silver Spring does need a historical society."
So, in 1998 I pulled together about a dozen people and we gathered in the living room of my bungalow on Thayer Avenue and formed a historical society. At that first meeting we had a heated debate as to what our mission would be. Most historical societies do not advocate on behalf of historic preservation. They just collect, preserve and make available the history of a community. When you include historic preservation this introduces advocacy, which can and does become very contentious, very tiring, and sometimes a very threatening endeavor. One of my colleagues said, "Well you know Jerry, if we don't engage in both sides of this coin, we're going to lose all these buildings and you're going to be walking around downtown Silver Spring on your walking tours pointing out places that no longer exist." We decided that our mission would include both the preservation of archival materials as well as historic structures.
Anymore, I think the historic preservation side takes up 85% of our time, which is unfortunate because I'm more of the archivist and educator. I like to teach people about the history of downtown Silver Spring. Yes it's true, if we don't advocate for the preservation of Silver Spring's key landmarks, we're not going to have anything left. We've lost a lot already, and unfortunately we're going to lose more. There's always a fire burning somewhere. We at the historical society, we're all volunteers, we're a 501c3, and we do this for the love of preserving Silver Spring's history. We all have our real jobs. Sometimes I feel like Silver Spring's history takes up more of my time than my real job as special collections librarian for the DC Public Library's Washingtoniana and Peabody Room.
What are the more poignant changes you've seen in Silver Spring?
I think about what it was like a century ago when Silver Spring was truly an agrarian community and then it started being built up as a commuter suburb for federal employees. I see the first big change as being the opening of Silver Theater and Silver Spring Shopping Center in 1938. That must have amazed residents when those opened. Both shifted the commercial center of downtown Silver Spring, moving it north up Georgia Avenue to its intersection with Colesville Road. The people that were living here in the 1910s and '20s, they remembered when Georgia Avenue was a dirt road with horses and carts going up and down the street. That must have been disturbing to them thinking, "Wow! Silver Spring is really growing and changing." Well, I kind of felt that way in the early 1990s when you could almost shoot a cannonball down Georgia Avenue in the evening and not hit anybody or any cars because it was completely dead. Now, there's all this street life with restaurants and entertainments.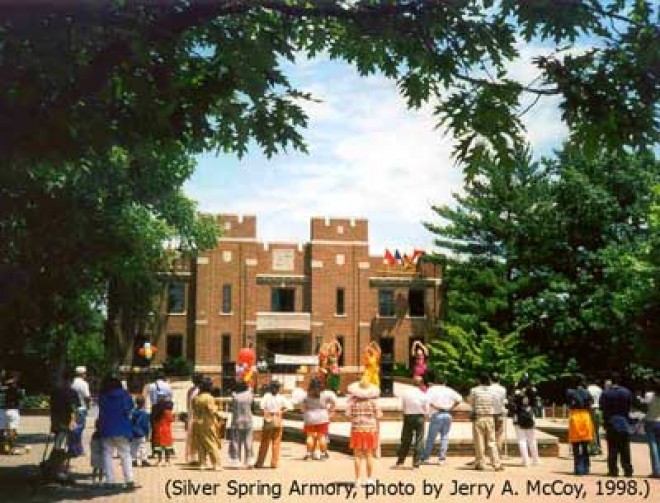 It amazes me how Silver Spring has changed in the last 20 years. With that change has come the loss of some of our key buildings, primarily the 1927 Silver Spring National Guard Armory. That was a real bitter, terrible loss because that structure was already historically designated on Montgomery County's Master Plan for Historic Preservation. That's the highest level of historic designation that the county can bestow on a building. It takes a lot of work – a lot of work – to get a building historically designated on the Master Plan. It was already designated and protected. Along came the revitalization plan for downtown Silver Spring. "Oh, gosh, the armory's in the way of the revitalization of downtown Silver Spring."
So we lost the armory in 1998 for the supreme insult of a parking garage. I'm still angry to this day. Several times a week I walk past the Wayne Avenue parking garage. There are architectural pieces of the armory that have been placed alongside the sidewalk when you go in and out of the garage. Looking at those pieces almost brings a tear to my eye. I think of them as dismembered body parts of a great civic building. Ideally, we had wanted those pieces to go into the newly completed Civic Center to commemorate the history of the armory, but that never happened.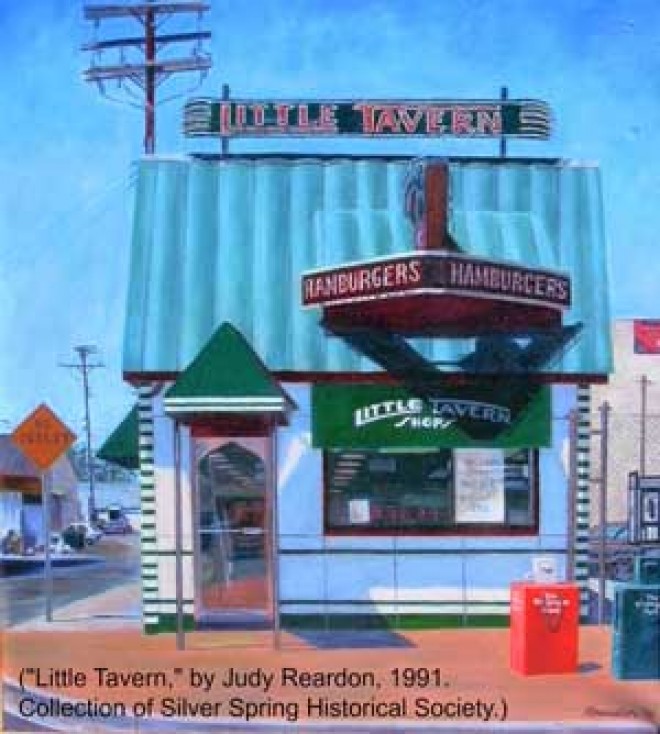 We've also lost other important buildings. The 1935 Little Tavern that used to be located on the corner of Ripley Street and Georgia Avenue. That was an incredible building. We actually had two Little Taverns located in downtown Silver Spring. The other one dated from the 1970s at the corner of Wayne Avenue and Fenton Street where the new library is being constructed. The earlier building was known as Little Tavern Number One. That was the first Little Tavern built in Montgomery County. The Little Tavern corporate headquarters were located right behind that building, and that building is still there, that's Pyramid Atlantic's current headquarters. Today the building is painted fire engine red. That was a very bitter preservation loss. Pyramid Atlantic had originally said they were going to restore the building and use it in their campus. They were going to build another structure right next to it in their small parking lot, but that never came to fruition. The footprint of the building can still be seen at the corner of Ripley and Georgia. There's a bed of gravel that delineates the exact foundation of the structure.
Pyramid Atlantic is going to move into the new Silver Spring Library, so we're going to lose the 1942 Little Tavern corporate headquarters as well. Little Tavern was a landmark on Georgia Avenue. "Buy 'em by the bag" was LT's motto. I just wish that somehow we could have saved that building. We had looked into maybe moving it. There's a space right across Georgia Avenue where the statue of Norman Lane, who was a homeless man who lived in downtown Silver Spring, is located. The opening was wide enough that we could have slipped the Little Tavern right into it. Pyramid Atlantic agreed to give it to us if we moved it. We got estimates of $80,000 just to move it across the street. It might as well have $80 million. This was an unfortunate loss of a classic example of early 20th century commercial roadside architecture.
There are other buildings. The 1958 Perpetual Building Association, now SunTrust Bank at the corner of Cameron Street and Georgia Avenue, is an incredible example of Mid-Century Modernist commercial architecture. There is a project plan to knock this building down and to replace it with yet more apartments or condominiums. We've had this building on our radar for many years now and we've even had discussions with the owner of the building that this structure could be adaptively reused. You can add additional floors onto it. There's a parking lot on the north side of the building. You could expand into the parking lot. It would make an awesome, unique, one-of-a-kind residential structure if the original building were incorporated into new construction.
Adaptive reuse, we've always pushed that. There's no reason to tear down a well-built structure that really has no structural issues other than the need to tweak it to the needs of living in the 21st century. We understand that with many buildings you can't do that, but most buildings can be adaptively reused. It's really wasteful to demolish a building and lose all of the energy and materials that went into its construction. All of those building materials get hauled off to a dump. It's not a very green thing to do. We recycle paper, glass and metal in Montgomery County. Why not well built, well-designed structures? There are key buildings that are deserving of preservation. We continue our efforts to educate the public…and most of all county officials…as to the importance of preserving these buildings.
What do you love about Silver Spring?
What we originally loved about downtown Silver Spring was that despite being very urban, it felt like a small town. I love being able to walk to everything I need, the grocery store, restaurants, coffee shops, and movie theaters. The biggest thrill when I first moved here was being able to take my car in for repairs and then being able to walk to the Metro to proceed to work or simply walk back home. At some point the car repair shops on Sligo and Selim are destined to disappear. Those properties are increasingly becoming too valuable to have single story automobile repair shops so close to public transit. It's not a very good example of smart growth to have businesses like that, but it sure is convenient to those of us who live near them.
I've loved getting to know the area shopkeepers over the years. I never had that sense of community living in DC in Adams Morgan. It's city life. People want to live their anonymous lives, but in downtown Silver Spring you get to know the people who run the Mom and Pops, the independent businesses. You certainly are able to get to know your neighbors. You see the same people out on the streets every day. I used to call downtown Silver Spring, "Mayberry" from the Andy Griffith Show. That's a cultural reference that's becoming lost on people more and more when I give walking tours!
The diversity of people here in Silver Spring amazes and pleases me. I just wish some of Ellsworth's synergy could be transferred south of Wayne on Georgia Avenue as well as to Fenton Village. A lot of the small independent businesses in these two areas simply are not exposed to the foot traffic like businesses on Colesville and Ellsworth Drive have. It's been hard to draw folks to the rest of downtown Silver Spring but I see it getting a little bit better. Restaurants like Jackie's have certainly helped it. I consider Jackie Greenbaum to be an urban pioneer in south Silver Spring. When she first opened there was virtually nothing down there in terms of restaurants and she consistently gets good reviews. Commercial viability is increasingly getting better there and I just hope that we're going to be able to retain some of the early 20th century buildings, especially the ones that are on the east side of Georgia Avenue.
Downtown Silver Spring is a rare example of a community having a concentration of early to mid 20th century commercial structures. This exists nowhere else in Montgomery County. Downtown Rockville was destroyed during the urban renewal of the 1960s. I see photographs of what downtown Rockville used to look like and know what it looks like now, and it's absolutely heartbreaking. I can imagine why people were devastated when the original downtown Rockville was destroyed. The same thing happened in Bethesda. I started going to Bethesda in the late 1970s and Bethesda at that time looked like it had since the 1950s. There are a few buildings that have been preserved, but otherwise it's all tall glass office buildings. I've long wanted downtown Silver Spring to not go that route. I don't want it to become Bethesda or Rockville. Unfortunately, I feel like that can and will probably happen.
When the recession started in 2008, it was like, "Yay, recession!" That's when the banks stop lending money to developers, and older buildings receive a stay of execution. We knew that one day the recession was going to end, that the money would start flowing again, and developers are going to start eyeing properties. That's exactly what has happened. We're now looking at losing the entire block between Ripley and Bonifant Street on the west side of Georgia Avenue. That's where Dale Music is located and the Bethel World Outreach Church, which used to be the SECO Theater. That was the first movie theater in downtown Silver Spring, opened in 1927. The corner bank building, the old Silver Spring National Bank, that building opened up in 1925 and it used to be located at the corner of Sligo Avenue and Georgia. The bank moved up Georgia Avenue to the corner of Bonifant and Georgia.
All of these buildings are slated for demolition by a developer who wants to put up an office building. We've already met with the developer. We asked them to incorporate the corner bank into new construction because it's been an institutional landmark since 1925. I've read that Millennials are increasingly craving "authenticity" in the built environment and what better way than to incorporate a nearly century old bank building? Unfortunately, the developer did not agree. I predict that the entire west side of Georgia Avenue between the underpass and Bonifant Street, other than the 1945 B &O Railroad Station and the 1937 Silver Spring Post Office, is going to be razed. The west side of Georgia Avenue, I think it's zoned for 120 feet, is valuable property. Developers know that and they want to max out the potential value of the property.
There's going to be a lot of continued changes, but we really want to save as much as we can on Georgia Avenue. The architecture is unique and human-scaled. I think it's what defines downtown Silver Spring. If we lose all that and become like every other community, we're going to lose the heart and soul of Silver Spring.
What do you dislike about Silver Spring?
I dislike that we are not incorporated. I feel like we have no self-governance over what happens here in downtown Silver Spring. It has always irked me that we don't have a mayor; we don't have a town council. Somebody that you can go right up and complain to. It irks me that we're governed by Rockville. Residents of an unincorporated community really have no self-governance, so self-destiny, no control over what happens to their community. It bothers me that we have no defined city limits. I grew up in an incorporated city, as I'm sure most people have where, when you enter the town, you see a sign that says, "You are now entering fill-in-the-blank." Silver Spring is anywhere and everywhere; the US Postal Service considers anything with a 209XX zip code to be Silver Spring.
When the Silver Spring Historical Society first organized, we had to decide in our mission statement what we were going to represent as Silver Spring. We knew that Silver Spring covers a vast amount of space. We decided that our scope would cover downtown Silver Spring because for most people, that's what they think of when they think of Silver Spring, MD. We extended to the immediate neighborhoods that ring downtown Silver Spring, so East Silver Spring, the Blair, Woodside, and Woodside Park neighborhoods are included. We get queries from people all the time out in Colesville, Glenmont and Wheaton asking questions about the history of those communities. We can only document and preserve materials from here in the downtown core of the community.
Is there anything that would make Silver Spring better?
I wish pedestrians felt better protected when walking alongside Georgia Avenue and Colesville Road because we've got two state highways barreling through downtown Silver Spring. It can be intimidating when you're a pedestrian on these sidewalks and attempt to cross the streets. I think that adds to the perception of Silver Spring not being a safe community. I also think that our diversity, for some, is perceived as a safety issue, which is of course ridiculous. I wish more people would patronize the businesses down in south Silver Spring and that Fenton Village would start to be built out. There are WAY too many gaps in the storefronts along Fenton Street. These empty lots need to be filled in with buildings and businesses.
I'd like to see less traffic but that will never happen. I've increasingly seen traffic in the morning and evening on Grove Street, which parallels Georgia Avenue. It's down where I live. Sometimes I can't even back out of my driveway because there's so much traffic on sidewalk-less Grove Street. I know where it's coming from because people want to get off Georgia Avenue. Of course Fenton Street is backed up during AM and PM rush hours too. I can't wait to see what it's like when the Purple Line is chugging through downtown Silver Spring. I still can't wrap my head around what that's going to look like. How the Purple Line is going to interact with vehicular traffic is going to be interesting. The intersection of Georgia Avenue and Bonifant Street is gridlocked now when the traffic light changes. What's it going to be like when there's this light rail train coming through it every 10-15 minutes? .
When you go out in Silver Spring, where would someone find you?
You'll find me at the AFI or Kefa Café, operated since 1996 by Lene and Abeba Tsegaye. Everyone loves Kefa Cafe. They recently were named best cafe in the Best of Fenton Village awards. You'll find me at the new Silver Spring Library or Safeway and Whole Foods, where I spend too much time! You'll also would find me here at the train station most first Saturdays of each month when the station is open for free tours.
Name some hidden gems in Silver Spring.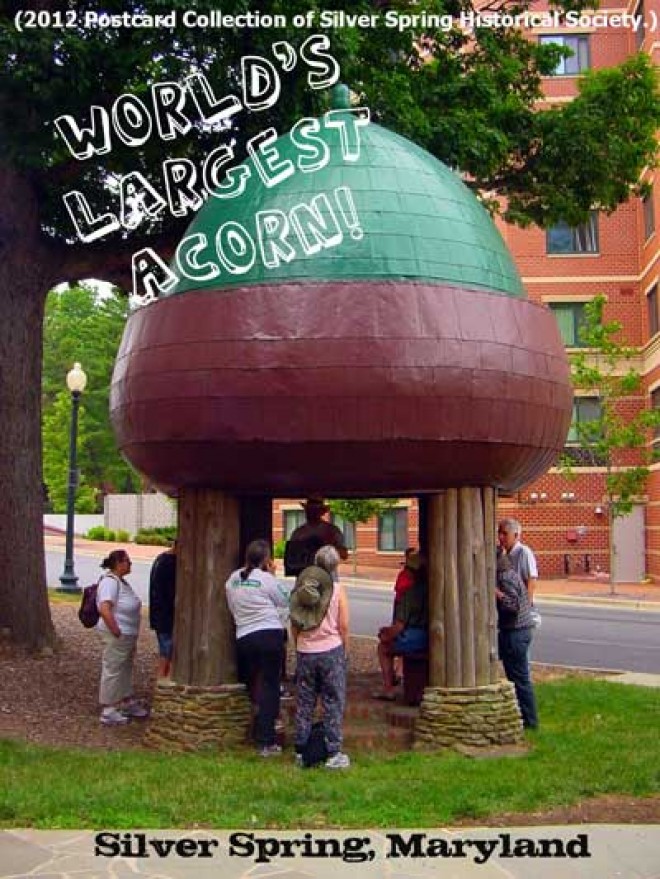 The absolute hidden gem is our Acorn Gazebo, which I proudly proclaim as the World's Largest Acorn! I have researched this extensively. There is an acorn down in Raleigh, North Carolina made out of sheet metal. It's about half the size of our wooden acorn. In Raleigh they lift this acorn off of its metal pole by a crane and every New Year's Eve they lower it like they do the crystal ball in New York City. I'm really jealous because I wish we would do something like that in downtown Silver Spring. I wish we would lower a penguin from the Discovery Building on New Year's Eve!
The Acorn Gazebo is in Acorn Park at the corner of Kennett and Newell Street, site of the original mica-flecked spring after which Silver Spring takes its name. Francis Preston Blair, the founder of Silver Spring, had it constructed around 1851. It's the only acorn-shaped gazebo in America. I've been trying to play up this title of world's largest with the Greater Silver Spring Chamber of Commerce and the Silver Spring Regional Office. They need to get the publicity out, you know, "Come to Silver Spring. See the world's largest acorn." For years, I've talked the acorn gazebo up, but seem to get little publicity for it.
What is really amazing about the gazebo is that Abraham Lincoln sat under it when he came to visit Blair. Blair was an unofficial adviser to twelve US presidents, from Andrew Jackson to Ulysses S. Grant. He was very well regarded and an esteemed senior statesmen due to his knowledge about Washington DC politics. Individuals would make the pilgrimage out to Silver Spring to visit "Old Man Blair." Blair was proud of his spring, so that was why he had this gazebo built overlooking the spring and his mansion was located just a half a block from where the spring is. He would bring his visitors down to the spring. They would sit under the gazebo to discuss the state of affairs of the nation.
Abraham Lincoln came out here to visit Blair and there is even a first-hand account of the president playing "townball," an early version of baseball, with Blair's grandson and his friends. There is no reason that Blair would not have walked Lincoln over to the gazebo to see his spring. It gives me goose bumps when I sit under that gazebo and think; "Abraham Lincoln sat here." Few know about our Acorn Gazebo. Once again, thousands of cars drive up and down East West Highway every day and people are oblivious to this structure. This is the Silver Spring's undisputed hidden gem.
Anything else?
I want to emphasize that the Silver Spring Historical Society does not want to save everything. We've gotten bad press over the years. We've been called an impediment to the revitalization of Silver Spring. I've had that thrown in my face, and I just laugh. I've received threatening phone calls over the years. We've been threatened with lawsuits. This is all because of our advocacy to preserve certain buildings. It's unfortunate but that's part and parcel of being a historic preservationist.
Most people do not understand why it's important to save a community's history. It's been said that you have to understand where you came from before you know where you're going. It's important that you respect key places within a community's past. Each one of our buildings represents individuals that were here before us and devoted their lives to making their community better. By retaining these key places within our community, we create a sense of place. That's the key reason for historic preservation. You don't want your community to look like every other community. It's the homogenization of America that has created a society where every place looks like every other place. You want your community to look different. You want to have a sense of place that tells you, "This is Silver Spring, MD."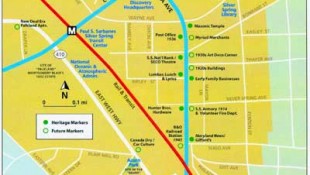 I encourage folks to walk our Silver Spring Heritage Trail, currently nine historic markers on Georgia Avenue and Colesville Road that tell the history of our buildings through text and photographs. We have structures here that no other community has. These structures are really important to hold on to, to protect and to preserve for future generations. That's what we've been trying to do since 1998, sometimes successfully, but most of the time unsuccessfully. We just can't give up. We think it's worth the advocacy and the putting in of time and energy to preserve the history of Silver Spring for future generations.
*Author's note: You can purchase Jerry's books directly from him or online.
Amazon:
Historic Silver Spring
Downtown Silver Spring (Then and Now)
---