UPDATE – September 25, 2014:
Second Map Submission Location-
We had a great turnout for our first Map Submission day at Fenton Street Market.  To ensure that we get the highest sampling of Silver Spring residents, and that our results are not skewed towards a single location or area, Silver Spring Inc will be at Trucktoberfest this coming Saturday, September 27, 2014, starting at 11:00 a.m.  Please stop by and say hi!
(Warning: Individuals who stop by to say hi may be recruited for extensive map coloring activities.)
Trucktoberfest will be held at Wheaton Triangle at Reedie Drive and Grandview Avenue (Wheaton Metro Station).
*********************************
What is the "true" Silver Spring?
Hi, my name is Christy Batta and I am a local graphic designer for SW Creatives. I have been getting more involved with the Silver Spring community since moving here in March and one of my favorite hobbies is learning about maps and how they tell different stories about a place.
As an unincorporated area, Silver Spring's geographic identity is quite murky and has a big impact on who and what gets included as a "we" or excluded as a "them" in our communities. The various competing "official" boundaries of Silver Spring include interpretations from the Census Bureau, the United States Geological Survey, the Silver Spring Urban Planning District, the United States Postal Service and the Greater Silver Spring Chamber of Commerce. Source
Now it's time for you to have your own say on what you believe is the "truest" geographic definition of the city. I'm excited to team up with Silver Spring Inc, with help from Just Up the Pike, to find out where people feel the city really begins and ends and explore how people identify the "authentic" Silver Spring experience.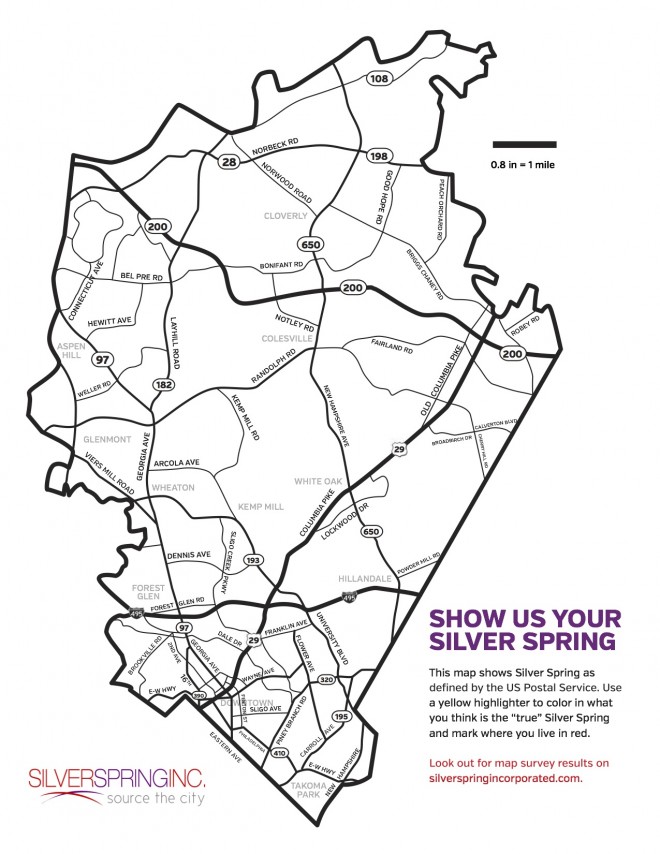 We'll be kicking off the "Show Us Your Silver Spring" map survey at Fenton Street Market on Saturday, August 30th from 10AM–1PM. Come color in one of our blank Silver Spring maps with your own boundaries and we will compile all the results to see where the hot spots are.
We will also post the blank survey map below so you can fill it in and send it to us at [email protected]. Also be on the lookout for Just Up the Pike's upcoming article on this topic as well!
Map File – ShowUsYourSilverSpringMap
---