The Highwood Theater started in Executive Director Kevin Kearney's basement. Plays cast with family and friends grew and attracted more enthusiastic thespians, snowballing into a full-fledged theater. Eventually, Highwood found a new home in downtown Silver Spring, and is currently in its 11th season.
Sarah Scott, Highwood's marketing coordinator, says community involvement is a core part of the theater's mission. "Our motto is, 'We believe anyone can do theatre,'" she says. "Whatever your role is, whatever you're interested in, Highwood can implement that." Highwood offers a welcoming venue for student-written plays, staged readings, and similar outlets for budding playwrights hoping to share their work. The theater also features workshops, monthly improv nights, and shows that mix amateur performers with professional actors.
Scott is a particular fan of Highwood's improv nights. Troupes from D.C., American University, or George Washington University perform monthly. "I think it's something Silver Spring residents would really enjoy. They just maybe haven't heard about it."
Above all, Scott reiterates Highwood's passion for encouraging students. "Student-based [theater] is our strongest program," she says.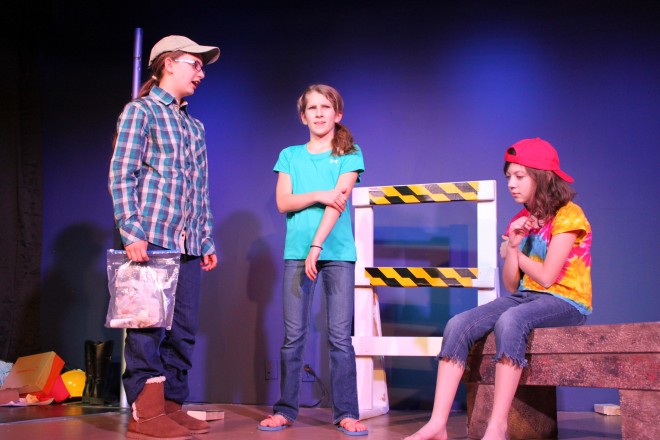 For proof, look no further than this weekend's performance, "Owls". Based on "Hoot," the novel by Carl Hiaasen, "Owls" tells a story of overcoming bullies of all sizes. Roy (Leila Saidi) has just moved to Montana from Florida and is tormented by the school bully, Dana (Rachel Sparks, who also plays good guy Mullet Fingers). After pursuing a mysterious shoeless boy to a construction site, Roy discovers that he's not the only one under someone's thumb. A nefarious pancake house company is planning to bulldoze a colony of burrowing owls. With the help of new friends, such as tough girl Bernice (played by Chloe Farber, who quick-changes into at least four roles throughout the show), Roy must find a way to save the owls. In doing so, he finds his own kindred community in his new home.
"Owls" is written, directed, and performed by local homeschool students. The three actresses, who are 10 and 11 years old, adapted Hiaasen's novel with the assistance of Executive Director Kevin Kearney. They designed their costumes, spent time in The Highwood Theater's recording studio getting songs right, and share at least seven roles between them. The tech crew also comprises homeschool students.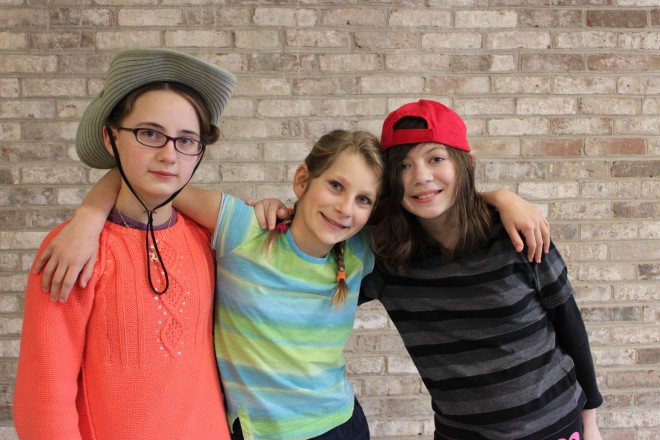 Putting on their own production has been a fun challenge for the students. Chloe points out that while stage fighting, she had to be careful not to actually hurt the other actor. "In the play, I like punching people," she says, grinning mischievously. She demonstrates the difference between her stage punch and the actual hits she learns in her martial arts classes, twisting her shoulders to put power behind it. "If I do it like that, there's only this much space between us," she says, holding her fingers inches apart to illustrate.
Leila talks about the line between the fear of messing up and the thrill of performing. "The hardest part is not blocking myself and being too embarrassed…I do this class because I want to be on the stage. Just doing it makes me happy."
"The most fun part of every single play is stepping out on the stage and realizing, 'Oh my God, we actually made it,'" says Rachel. "And hopefully getting the applause at the end."
"Owls" runs Friday, December 12 at 7:30 p.m. and Saturday, December 13 at 2:00 p.m. The show runs approximately 30 minutes and will be followed by a performance of favorite holiday songs by the Highwood Stars.
---