The new year brings new changes not only for individuals making resolutions, but for local services as well. Ride On, the management behind the VanGo circulator service, is implementing changes that were effective Jan. 11. Silver Spring residents can expect extended VanGo hours, a new Saturday schedule, and a rebranding campaign beginning with new bus stop signs.
VanGo is a free shuttle service that follows a route through the Silver Spring Central Business District.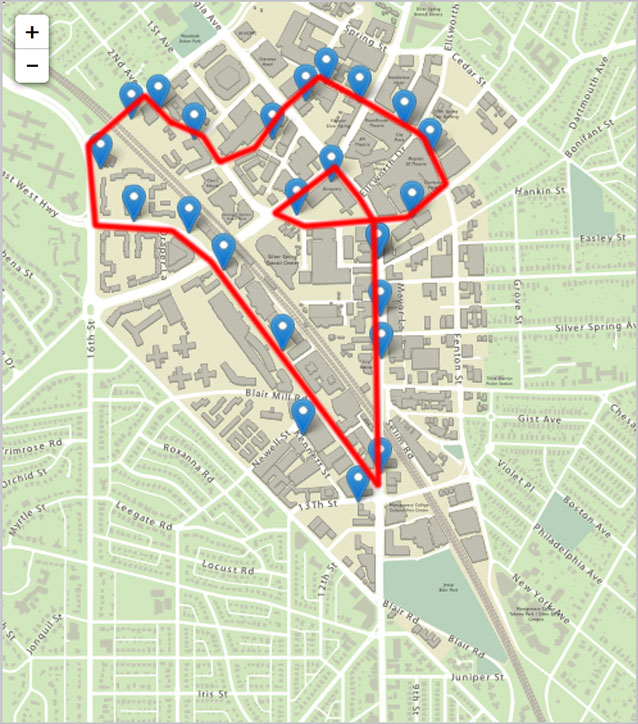 The scheduled changes do not include any additional stops, but do expand weekday hours. Instead of running from 7 a.m. to 7 p.m., busses operate until midnight Monday through Thursday. Ride On has also introduced a partial weekend schedule, with VanGo running from 7 a.m. to 2 a.m. on Fridays and Saturdays. The longer schedule means a slightly longer wait between buses. Silver Spring residents should expect to wait 12 minutes between VanGo buses, rather than 8 minutes.
Ride On is also planning a gradual rebranding, with "VanGo FREE Circulator" to appear online, on social media and on new bus stop signs. Some additional branding measures may include sidewalk paint to help make bus stops clearer, flashing destination signs, and special signage at shared bus stops.
VanGo's primary purpose since its inception has been to provide convenient access to various parts of the downtown Silver Spring business district, including from downtown parking lots. The previous schedule allowed business commuters the option of using VanGo to get to work, and early shoppers and diners might be finished in time to catch the last bus. A 7 p.m. deadline is tight for most restaurants, but for people looking for a drink at the end of the workday, VanGo has been a good fit.
Denizen's Brewery opened last July, offering indoor and outdoor dining, as well as tours of the onsite brewery. Taylor Barnes, a co-founder and marketing/events director at Denizen's, talks excitedly about both the brewery and the neighborhood.
"We love south Silver Spring because it has so much character…I think you can really take a trip and stop by a couple places." Barnes sees VanGo as a valuable asset for the happy hour crowd. "It definitely works for us and we hope that more people continue to use it," she says, noting that increased hours will help the business as well.
Making the switch from serving happy hour drinkers to include the dinner crowd is a perk, but a free transportation service has a broader purpose than letting people eat on their own schedule. The changes  may help address important weaknesses in the VanGo program. Bernice Mireku-North, chair of the Silver Spring Citizens Advisory Board, hopes to see the service widen its focus.
"From my understanding, VanGo was originally an idea to help the business district of Silver Spring," she says. But she wonders if this goal was too narrow, overlooking the needs of certain key demographics. Mireku-North sees a surprising amount in common between Millennials and senior citizens.
"They both would like to use a shuttle to get their groceries home, for instance. That's something I would like to hear in the immediate future, that people say, 'I can [run errands] for free.'" Mireku-North also sees both populations taking advantage of VanGo's later hours.
"Unfortunately with young adults, you have to work after work sometimes….Senior citizens want to get out of [their] homes." If the shuttle runs close enough to the right apartment building, senior citizens can go out without worrying about difficulties driving after dark, and young adults can work (or play) late and count on a ride home.
"If," though, is the operative word. Although there are several apartment complexes in downtown Silver Spring with conveniently located VanGo stops, many others are still without onsite access to the service. The decision not to expand the route means that this status quo remains, at least until the next service review.
"My biggest wish is that they would expand how far they go," Mireku-North says. "Ideally, it would be nice to go to Takoma Park."
In an email response, a Ride On representative said that the company evaluates its service year-round, and implements service improvements in January, May, and September.
Silver Spring residents who want to offer feedback on the VanGo program can attend community meetings or write to Montgomery County policymakers or the Silver Spring Citizens Advisory Board. The most important (and most convenient) thing the Silver Spring community can do, though, is let their seats do the talking: Ride the buses, try the new hours, and decide where VanGo fits well into their lives and where it's still not quite reaching far enough.
---