A 2-Alarm fire last night broke out at Quarry House, Bombay Gaylord and Mandarin. The fire occurred around 4AM on the morning and caused over $750,000 worth of damage. Over one hundred firefighters responded, one of which sustained a small injury. The fire is suspected to have been electrical in nature. Firefighters broke down a door in Kefa Cafe to gain entry to the other buildings, but is otherwise undamaged by the fire.
All Set Restaurant (8630 Fenton Street) – With the promise of activating the other side of Colesville beyond the Fillmore, All Set restaurant looks to be on the verge of opening. Brought to you by Silver Spring native Jennifer Meltzer and Chef Edward Reavis, All Set is only the latest is new offerings opening in Silver Spring. The city has already had a hugely diverse offering in terms of restaurants, especially in the Fenton Village neighborhood, but the latest wave of new restaurants are a welcome addition. At All Set, expect a New England inspired menu as well as an open raw bar and other contemporary takes on seafood classics. The restaurant promises to provide seasonal offerings, as well as use locally grown produce.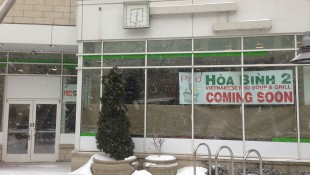 Hoa Binh 2 Vietnamese Pho & Soup (930 Wayne Ave) – What has been a seemingly cursed location at the bottom of the Crescent has a new upcoming tenant. Skew Works and Taco Districto Federal were both
residents at the location at the base of The Crescent Condominiums, but unfortunately, both were not able to last. Hopefully with the new library almost completed, foot traffic will improve and Hoa Bin will have better luck than the last two tenants. This brings yet another Vietnamese restaurant to the area to add to Lotus Cafe, Pho Tan Vinh, and Pho Hiep Hoa.
Mod Pizza (909 Ellsworth Drive) – A Seattle pizza chain, Mod Pizza, is scheduled to open in City Place Mall in May. The City Place (Ellsworth Place) location is just the first of their infiltration in the DC area, with several others in the works.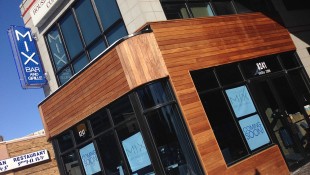 Mix Bar & Grill – Mix Bar & Grill has added an outdoor sign and looks to be on the verge of opening. The long bar promises plenty of boozing in front of the  TV screens lining the back. Georgia Avenue in Fenton Village has been the primary driver of new restaurant options in Silver Spring, adding some contemporary options to the bevy of restaurants that have been staples of the neighborhood.
Kefa Cafe (963 Bonifant St) – Sound the horns! Kefa Cafe has secured their location in the soon-completed Silver Spring library. What many consider to be the soul of Silver Spring will feature a kiosk with a dozen or so seats in the library. Apparently there has been an outpouring of support for the cafe, and due to so many offers, Lene and Abeba have started a Go Fund Me campaign to raise the build out costs for the new location. Donate today!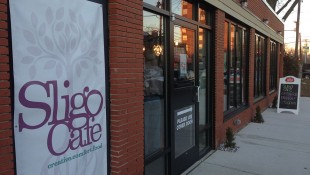 Sligo Cafe (923 Sligo Ave) – After several years of bating us with a restaurant, Sligo Cafe has finally opened bringing more food to Sligo Avenue (following the recent addition of Ethio Express Grill). Check out their creative comfort food, plus great selection of beers and cocktails from JP having come off her stint at Sidebar down the street.
Urban Butcher (8226 Georgia Avenue) – If you haven't noticed the insane fan fare, Urban Butcher has opened back up. A few changes have taken place, including installation of some permanent tables outside, and replacement of the front couches with standard tables. The food and service, however, remain consistent with their previous incarnation.
Residences on Bonifant (929 Bonifant Street) – The Residences on Bonifant are under construction and zooming to completion. Expect 149 units adjacent to the new Silver Spring library, four ground floor retail spaces, and yet another construction project to be completed before the Silver Spring Transit Center.
Golf Ultra Lounge (8123 Georgia Ave)- Gebeta closed a few months ago to be replaced by Golf Ultra Lounge. Redecorating has yielded some bold white (p?)leather couches that live up to the name Ultra Lounge. Their menu offers  wide variety of African fare, and they cater to an evening/late night crowd with weekly and weekend music from Africa, the Caribbean and American Rap. Alas, problems with permitting have shut them down. It's unclear whether the closing is temporary or not.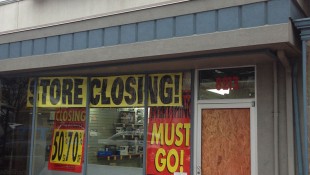 Radio Shack (8213 Georgia Ave) – Amidst their bankruptcy filing, the Silver Spring location for RadioShack is closing. In closing up, they're offering some pretty amazing discounts, up to 70%, in order to liquidate their inventory. Apparently that was not enough, as the front glass door was shattered and replaced with a wooden board.
Tropical Ice Cream (9324 Georgia Ave) – One of the oldest ice cream locations in Silver Spring is closing up shop. Tropical Ice Cream, which was preceded by York Castle, is closing their doors with no notice as to the reason. Tropical Ice Cream had some unconventional and exciting flavors like soursop and mango. A sign on their front door mentions several locations where you can still find their flavors, including: Yummy in My Tummy, Azucar Restaurant Bar & Grill, Red Apple Farmer's Market, and El Rancho Bakery.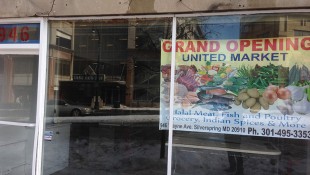 United Market (946 Wayne Ave) – Headliners on Wayne ave. has closed. An international market, United Market is under construction inside, but we have no date for opening. This looks to be an additional small market to the long list of markets to which Silver Spring is home. You can expect uncommon ingredients that you won't find at your local Giant, Safeway and Whole Foods.
Silver Spring Police Station (801 Sligo Ave.) – Artspace has been chosen to renovate the old Silver Spring Police Station into an artists' center featuring work and living space. The police station moved to 1002 Milestone Drive last May. Press Release
Moby Dick (Soon to be 825 Ellsworth Dr D1-A)-  Moby Dick is moving locations just to the other side of Fenton Street in the current Chik-Fil-A location. Now you can get their delicious kabobs and other items while rockin out to the fine sounds of the Hare Krishnas that are typically stations there on Saturday mornings. **Correction 3/20** – Moby Dick is not replacing Chik-Fil-A, but will instead be moving to somewhere in that area. We will update when we have a clear location.
McGinty's – Perhaps you've seen the small dining room upstairs at McGinty's. I've personally sat there only once in maybe hundreds of times I've been to McGinty's. A notice on their door indicates that as of April 8, the dining room is going to become The Room, a chef-driven concept restaurant offering seasonal ingredients and craft cocktails.
Gusto Italian Grill (8512 Fenton St) – Gusto Italian Grill is planning to take the old Cakelove (and before the Fractured Prune) location. A New Jersey based company, this is the second local location we know of, following on a planned location in Bethesda.
---