Thanks for joining us for the third in our five-part neighborhood interview series. We spoke with several community members who are actively engaged in their neighborhoods. Learn about your neighbors and the neighborhoods they call home, including some history, current state, as well as possible futures.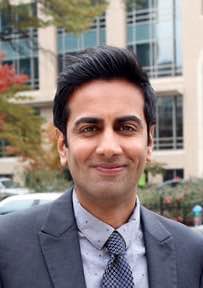 Our third interview is with Partap Singh Verma. Partap runs the blog "Finding Forest Glen" –  focusing on redevelopment of the Forest Glen Metro Station and is also a regular contributor to the site "Greater Greater Washington." Partap currently works as an attorney for the U.S. Department of Homeland Security and has worked for the U.S. Department of State – including embassies and consulates locations abroad. He holds a political science degree from the University of Maryland – College Park and received his Juris Doctor from the Pennsylvania State Dickinson School of Law as well as certificates in International Law and Alternative Dispute Resolution from Duke Law and the University of Central London Faculty of Laws. He is a member of the New Jersey Bar and is an active member of the Washington DC legal community. Partap is also one of the original IMPACT Silver Spring employees back in 2000. He is a product of Montgomery County schools and lives with his family in Silver Spring, MD. 
Here are some highlights from the audio:
"We were able to do a neighborhood-wide survey, where we asked folks [what they would want], if retail were to go at the property, and if improvements were made to walk to the property… We had about 240 responses… and the vast majority of people were excited about retail… and they wanted a coffee shop, restaurant, or deli."
"We're having a consolidated sector plan effort by Montgomery County that's going to start in April 2016, where Montgomery Hills and Forest Glen will be merged into one sector plan… it would be great to have development be done in a way that includes both sides of the Beltway."
On what type of development he would like to see at the Forest Glen Metro: "What I would like to see is open space, resources for the community and at the same time, sustainable development that keeps the development alive, so some type of commercial development."
Listen to the full interview to hear all about the area, and what Partap is doing for the Forest Glen community.
---